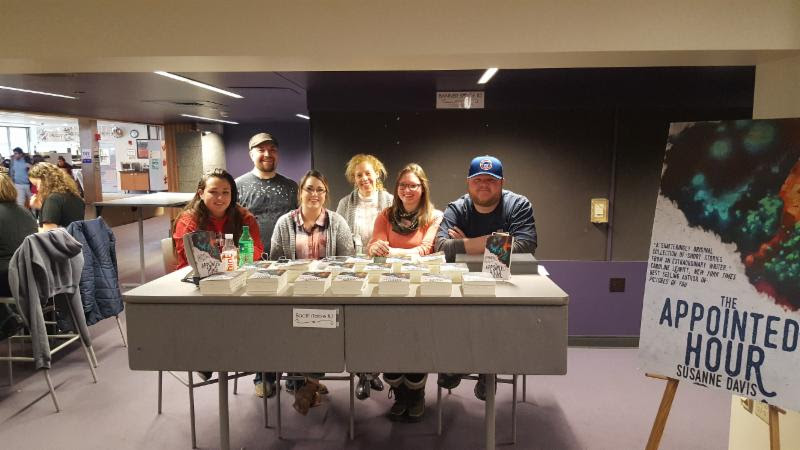 The Appointed Hour is making its way in the world. Above, selling books with a dedicated crew from Cornerstone Press at University of Wisconsin, Stevens Point, during launch Dec., 2017. Order now: https://www.uwsp.edu/english/cornerstone/Pages/default.aspx. Coming later this month to Amazon.
Upcoming Events

I am grateful to the following places for inviting me to read. I would be so happy if you could join me at any of these events and support these fantastic venues.
Jan. 11, 6-7 pm., Sterling Public Library, Sterling, CT. Reading and book signing.
Feb. 8, 6:30-7:30 pm, Aldrich Public Library, Moosup, CT. Reading and book signing.
Feb. 15, 6:30-7:30 pm, University of CT., Barnes and Noble Storrs Center. Reading and book signing.
Mar. 7, 6 pm, Bank Square Books, Mystic, CT., Reading and book signing.
Mar. 24, 11 am-1 pm, Read Local, Welles Turner Library Local Author Fair, Glastonbury, CT. Book sale and community event.
April 10, 12 pm, Smith House, Trinity College. Reading and book sale.
And more to come!
Why The Appointed Hour is Important to Me

The Appointed Hour was more than ten years in the making. Click here to read why this story collection is important to me and how I hope the stories help to make a difference.I remain forever grateful to Cornerstone Press for their fierce independent publishing of my book.Starting in Feb. I will hold a free book giveaway the first Friday of the month. Stay tuned for more.