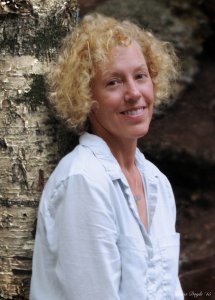 Susanne grew up on a dairy farm in Connecticut, still owned and operated by her father and brother. Farmers are notorious storytellers and so it seemed natural when one day she started to spin a story to her friends at school that her family would be moving soon. Her friends threw a big party for her, with cake and many sweet presents that only adolescent girls can give, including a miniature sailboat in a glass bottle. It was a beautiful party, the only problem was that she wasn't moving. Not at all. Maybe she had heard her parents talk about the possibility of moving, because indeed they did move a year later to the farm which serves loosely as the backdrop for her novel, Gravity Hill. But the problem was that she had to go back to school in September and face the friends who had given her a heartfelt, teary farewell.   What was she to do?
She made up a story. At that time, before moving to the dairy farm, her family owned a chicken farm. She hated the chickens and those dark smelly pens so it wasn't hard the first day of school that September, when her friends saw her get off the bus, to create ANOTHER elaborate story…(also not true)…the chickens had gotten a terrible disease and couldn't be moved.   Luckily no one asked what disease because she had not thought that far ahead. But that was the moment she decided to write fiction. So that in the words of one famous writer, she might write all her dramatic stories but live a boring life.
That move was not her last move. She moved for college and for her first real job at Harvard, and then for graduate school at the Iowa Writers' Workshop, where she found herself again surrounded by farms and fields of dreams.The stories of rural people and love for the land show up in her linked story collection, The Appointed Hour.
And despite her best efforts, life hasn't been boring. First marriage, then children, then travels to far away places: China, Greece, Africa, Russia, and numerous countries in Western Europe, then divorce. She saw far and near the human craving for stories to not only entertain but to help heal and give hope, to give voice to the voiceless. She lives back in Connecticut where she started. These days, she does a lot of sailing (remember the sailboat in the glass bottle?) In addition to her own writing, she teaches, offers writing workshops, takes on private students and enjoys helping other writers get their stories out into the world.
---
Manuscript Consultation for manuscripts up to 350 pages
Contact Susanne for Pricing
Only 2 spots left!
Click here for more upcoming events.
---
More about Susanne
Buy now: "A Writer's Voice: Indelible on the Page."
A Gravity Hill book talk by Susanne at the UConn Coop.
Susanne talks about character-making in fiction on blogtalk radio show "Creativity Matters Now."
An eight minute documentary highlighting the real life stories of those working to preserve farms and land.